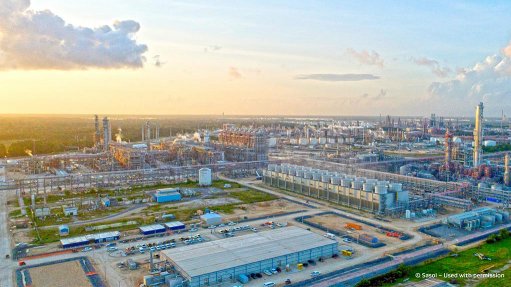 LyondellBasell Industries NV (NYSE: LYB) is teaming up with Sasol Ltd. (NYSE: SSL) on a joint venture that will own and operate ethane and polyethylene facilities along the Louisiana coast.
The Netherlands-based LyondellBasell, which has its operational headquarters and executive team in Houston, will pay South Africa-based Sasol $2 billion for a 50% stake in the assets, according to an Oct. 2 press release. The deal is expected to close by the end of the year, and the joint venture will be called Louisiana Integrated PolyEthylene JV LLC.
The newly constructed assets include a 1.5-million-ton ethane cracker, a 900,000-ton low- and linear-low-density polyethylene plants, and associated infrastructure. LyondellBasell will operate the assets on behalf of the JV, while both companies will provide pro-rata shares of ethane feedstocks and will offtake pro-rata shares of cracker and polyethylene products at cost, per the release.
The deal will transfer some Sasol U.S. employees to LyondellBasell, though the release did not indicate how many. Meanwhile, Sasol will retain full ownership and operational control of several other assets in Lake Charles, Louisiana.
The deal will help Sasol achieve its goals of reducing net debt and shifting the company's portfolio toward specialty chemicals, according to the release. For LyondellBasell, the deal helps the company expand in a core area of its business without the risks that come with building a new project from the ground up.
"This approach is consistent with our strategy of investing in high quality assets that meet our threshold for value creation while also maintaining our investment-grade rating and commitment to our dividend," Bob Patel, CEO of LyondellBasell, said in the release. "The transaction is expected to be accretive to both cash flow and (earnings per share) within one year with significant upside as market conditions continue to improve."
Before the Covid-19 coronavirus pandemic, LyondellBasell had seen significant growth in recent years. The company completed its acquisition of Ohio-based A. Schulman Inc. in August 2018. The deal was valued at $2.25 billion when it was announced in February 2018.
Also in August 2018, LyondellBasell broke ground on a $2.4 billion propylene oxide and tertiary butyl alcohol plant at its Channelview Complex — the final project in its $5 billion U.S. Gulf Coast organic growth program. However, the end of the growth program doesn't mean the end of growth for the company, Dan Coombs, the company's executive vice president of global manufacturing, projects, refining and technology, said in August 2018. At the time, LyondellBasell was considering billions of dollars in other organic projects, much of which will likely be spent in the U.S. and quite possibly on the Texas Gulf Coast.
After Covid-19 hit the U.S., LyondellBasell decided to slow construction operations at the Channelview site in the interest of health and safety. That resulted in Zachry Industrial Inc., a subsidiary of San Antonio-based Zachry Group, laying off workers at the site in April.
"We believe it is prudent to limit construction activities at this time," Torkel Rhenman, LyondellBasell executive vice president of intermediates and derivatives, said in a March 30 press release. "We remain committed to the completion of this strategic investment."
At the time, the project was about 30% complete, and LyondellBasell was working with its contractors and developers on a revised timeline. LyondellBasell's other operations in Channelview and Bayport weren't affected by the decision.
More recently, LyondellBasell announced the startup of a new joint venture polyolefin complex in China and a new molecular recycling facility in Italy, both in September.
LyondellBasell produced $34.73 billion in 2019 revenue, of which $3.39 billion was net income, according to the company's most recent annual financial report.
Kirkland & Ellis LLP is serving as LyondellBasell's legal counsel, while Gordon Dyal & Co. and J.P. Morgan are serving as LyondellBasell's financial advisers. Latham & Watkins LLP is serving as Sasol's legal counsel, while Bank of America is serving as Sasol's financial adviser.
By Olivia Pulsinelli – Assistant Managing Editor
Courtesy of The Houston Business Journal
https://www.bizjournals.com/houston/news/2020/10/02/lyondellbasell-sasol-chemicals-jv-louisiana.html
https://ipspumpservice.com/wp-content/uploads/2020/10/E2C0EB2D-6F7A-4F69-B718-5CCE488BB21F.jpeg
287
511
Seth Alford
https://ipspumpservice.com/wp-content/uploads/2018/03/IPS-001-Logo-CMYK.png
Seth Alford
2020-10-05 08:59:12
2020-10-05 08:59:12
LyondellBasell to pay Sasol $2B to form chemicals JV in Louisiana